About the Elvis Duran Group
The Elvis Duran Group is an entertainment company focused on creating content for numerous platforms including radio, television, theater, film, live events and digital. Based in New York City, David Katz and top-rated national radio personality Elvis Duran launched the privately held company in 2007. Duran hosts Elvis Duran and the Morning Show, the most listened to Top 40 morning show in the U.S, which airs from 6-10 a.m. weekdays on New York's legendary Z100 and is syndicated in 75 cities spanning the United States and Canada.
EDG was formed to support and promote the Elvis Duran and the Morning Show. In addition to expertly producing entertainment content that's consistent with the Elvis Duran brand, the company also offers specialized and limited talent representation in television and radio.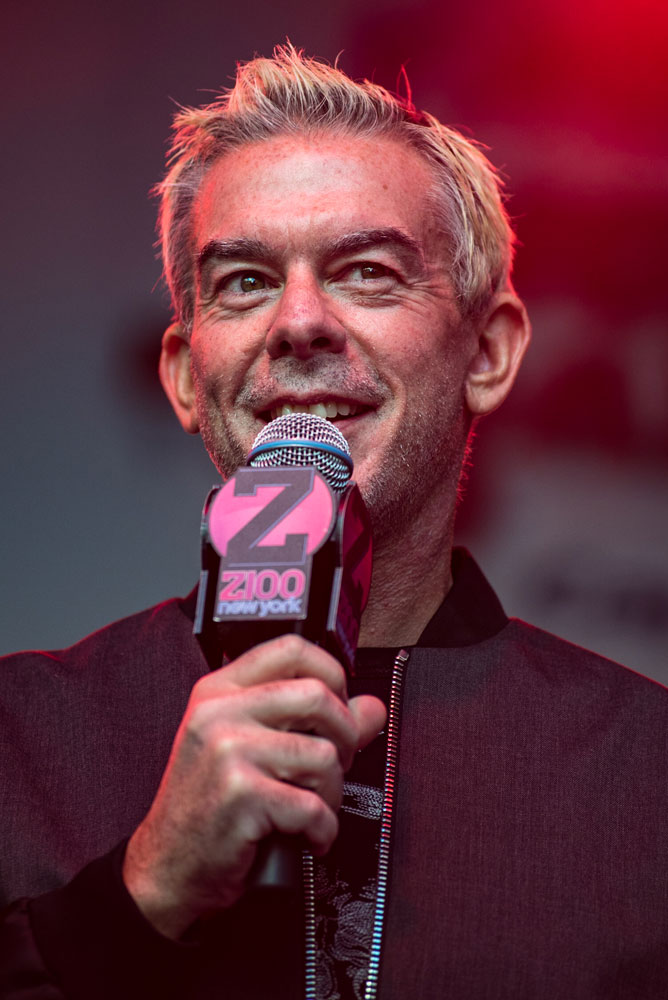 More than eight million weekly listeners consider Elvis Duran the host of the party on his national radio program, Elvis Duran and the Morning Show, the most listened to Top 40 morning show in the United States. Ranked #1 across multiple demographics and top markets, Elvis and his talented on-air crew broadcast live from New York's hit station, Z100 and entertain listeners with up-to-the-minute pop culture news, celebrity guests, world premiere music exclusives and regular fan favorites like the gossip-filled "Entertainment Report," the breaking news-packed "Headlines," and the ever-popular prank call skit "Phone Taps."
Spanning over 30 years, Elvis' radio career has included various hosting gigs and program director duties at Philadelphia's WIOQ and Austin's KBTS, as well as stints at Z-93 in Atlanta and KRBE in Houston. In April 1996, he launched his now world-famous Z100 radio show in New York, resulting in a national deal in March 2009 with the country's leading radio syndication company, Premiere Networks, a subsidiary of iHeartRadio. His popularity and success continued to grow, which lead to Elvis signing an unprecedented long-term deal with the company in April 2017. His role was expanded to include developing talent and programming and serving as a spokesperson for the global, billion-dollar company.
Throughout his career, Elvis has received numerous accolades from the radio industry and beyond. He has been honored as "Personality of the Year" by the Radio Music Awards, "Best Morning Show" by New York's Annual Achievement in Radio Awards, "Best Personality" by Radio & Records, "Best Major Market Top 40 Air Personality" by Billboard/Airplay Monitor, and "Broadcaster of the Year" by the New York State Broadcasters Association. Having earned the industry's respect and admiration, Elvis was inducted into the prestigious National Radio Hall of Fame in 2015 and the National Association of Broadcasters' National Broadcasting Hall of Fame in 2018.
David Katz is Partner and CEO of the Elvis Duran Group.  Based in New York City, Katz and America's number one morning show personality Elvis Duran launched the entertainment company in 2007.
Most recently, Katz brought EDG into the $26 billion fantasy sports industry through a partnership with SportsGrid, Inc., the leading suppliers of fantasy and sports wagering information services.  In the exclusive arrangement, EDG is responsible for programming, marketing, sales and distribution of SportsGrid's Fantasy Sports Radio Network (FNTSY Radio).
Also under the EDG banner, Katz and his brother, Emmy Award winning producer Jim Katz, launched the first-ever Character Actor Hall of Fame show, The Carney Awards, in 2015.  Named after the legendary actor Art Carney, famous for his role as Ed Norton on The Honeymooners, the awards show honors outstanding achievement in character acting, a category that has historically been overlooked by the Oscars and the Emmys.  The live show has been televised and star-studded with numerous honorees and special guests such as Harrison Ford, William H. Macy, Allison Janney, Jeff Garner, Wendie Malick and James Cromwell. Visit www.thecarneyawards.com.
Prior to EDG, Katz was a talent agent who oversaw the broadcast department at Don Buchwald and Associates and was instrumental in launching the careers of many radio and television stars, including Elvis. Today, Katz provides only specialized representation to select radio and television personalities. 
The Syracuse University Newhouse School graduate with a B.S. in Broadcast Sales began his career at WDAU-TV in Scranton, Pa. parlaying that into an earlier career as a television syndicator with All American Television where he sold Baywatch and The Howard Stern Show.